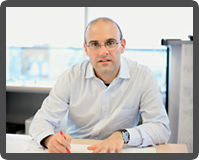 Cem Ahmet / Director
Education: University of Westminster, 1986 – 1990
Qualifications: First Class BEng (Hons) in Civil Engineering
Professional: Chartered Structural Engineer, since 1997
Member of the Institution of Structural Engineers, since 1997

Working Life…
Cem undertook a 4 year sandwich degree course. During his 3rd year, Cem worked for British Waterways in Watford, where he designed a lift bridge and various canal upgrades. "I will always remember my year at British Waterways with great fondness. It was the final piece of the jigsaw in bringing realism to the previous 2 years of study. So much so that going back for my final year, it gave me more purpose to succeed".
After graduation, Cem joined John Haiste, a London based Consultancy as a graduate engineer. After 2 years Cem spent a year on site working for Costain, gaining valuable site experience.
Cem then joined Buro Happold's new London office in 1994, where he was fortunate to work as senior engineer on the British Museum Great Court project. Cem designed the substructure works and the reconstruction of the South Portico.
In 1998, Cem joined Oscar Faber as an Associate Director. His previous experience of working on complex city centre sites with deep basements was tested, with the design of the University of Oxford's Chemistry Research Laboratory, the largest chemistry laboratory in the western world. Her Majesty The Queen, opened the building in 1993. "Along with the British Museum Great Court, this project was a career defining moment".
After a brief spell with BDP in 2006, Cem joined Adams Kara Taylor in 2007 as a Director. Cem was responsible for the running of a satellite office in Stevenage for two years. "My proudest achievement in my career was establishing a new office from scratch, employing and working with real talented people, who continue to be close friends".
---
Private Life…
Apart from Cem's passion for solving engineering problems, his other great passion is playing golf. Unfortunately for Cem, his golfing prowess is not quite up to the same standards as his engineering skills!
Cem has always had an interest in history, which he combines with great affect when working on historical structures.
Although born and raised in England, Cem is a fluent Turkish speaker. He grew up in a first generation, emigrant Turkish Cypriot family living in London. "My tactile approach coupled with an open and friendly personality, I owe to my upbringing and heritage" Cem applies these qualities seamlessly to both his personal and professional life.